SOLAR GEYSERS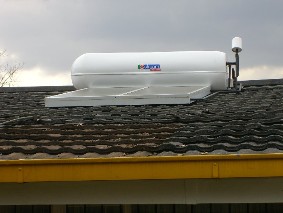 Solar Mac markets and installs various makes and types of Solar geyser systems.


GENERAL INFORMATION


1: 28 years experience in the solar industry.

2: Locally made. No problem with spare parts.

3: 5 year GUARANTEE on panels and geysers.

4: 20 year life expectancy.

5: Panel glass has passed the tests done by the CSIR for golf ball size hail.

6: Indirect system using glycol thus preventing any freezing in winter and giving a very high heat transfer efficiency from panels to geyser.

7: The glycol provides a corrosion free system.

8: Beware of the fly by nights that are jumping on the energy shortage bandwagon by selling low quality solar systems that will end up costing much more after the fly by night has moved onto other things.

9: Common sense dictates that one should select a company that has been in the solar industy for many years and has a long history and reference lists of satisfied customers.

10: Although price is a factor, it is not a criteria, yet peace of mind is imperative.


Contact us for any size job from a small system right up to large development schemes.